caribbean - Sail San Blas, Panama
| | |
| --- | --- |
| spa | |
Escape to Panama "The Path Less Traveled"
Nestled away on Panama's eastern Caribbean coast is the breathtaking beautiful San Blas archipelago of 367 small islands. The islands are deserted with beautiful palm trees and uninhabited beaches. Kuna villages inhabit only one-tenth of the islands.
View a map of San Blas, Panama.
Adventures and Experiences of the Most Relaxing Vacation of your Lifetime
Imagine yourself behind the helm of the beautiful sailing yacht "Takes Me Away." The warmth of the sunshine is gleaming on your face. You are gracefully steering her through the oceans waves. The power of the wind is felt as the yacht swiftly glides through the crest of each ocean wave. The San Blas islands are protected by a large barrier reef and creating a beautiful sailing grounds. The sails can be short (one to two hours) or longer. The pace is yours to set, busy or quiet as you choose.
Touring and Exploring
We will tour part of the 49 Kuna communities, to observe daily life first-hand. The men rise early to fish or tend their farms on the mainland, paddling off on their business in dugout canoes that are sometimes equipped with makeshift sails.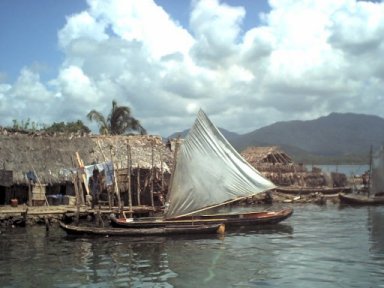 Fresh Fish, Lobster and Crab
You will experience the meals of fresh crab, lobsters, and snapper that the Kuna's have harvested from the sea with their dugout canoes.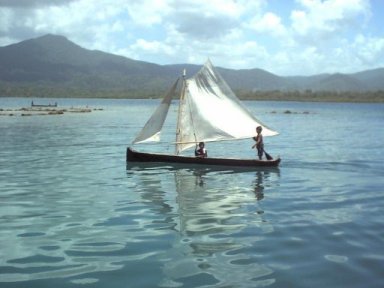 Cayukos used by the Kunas to catch the fresh fish, lobster and crabs.
Exploring Uninhabited Islands and Beaches
We will explore the uninhabited islands with beautiful palm tree lined beaches.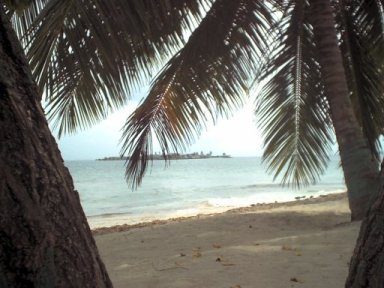 Mola Sewing and Shopping
We will see Kuna women at work making molas, the traditional women's garments. Molas are panels of cloth appliqué, which are sewn into the fronts and backs of blouses. Mola designs vary from the abstract and geometric to representations of birds, fish and innumerable other subjects, all different, but all distinctly Kuna. These works of art are one of Panama's best-known native crafts and can be purchased in every village of San Blas.
sp

One of the Kuna ladies selling
their artfully crafted molas.

spa

sp


Mola displayed for sale outside
the Kuna homes.
and Snorkeling...
| | |
| --- | --- |
| spa | |
| | Takes Me Away under full sail! |
You are in Paradise
You have left all your cares behind, and now all you feel is the overwhelming sense of peace that comes from being in a tropical paradise, sailing, swimming, and snorkeling and just plain relaxing.
The white, velvety sand is bathing your feet in luxurious warmth… and a cool, refreshing breeze is gently blowing across your face, as you take in the clean ocean air and stroll down one of the many beautiful undeserted beaches in the San Blas paradise.
Turn a new page and join us for a week-long vacation aboard a beautiful 43 foot Beneteau sailboat. The sailing vessel will be our transportation, living quarters, dining hall, entertainment, and has all the comforts of a "floating" motor home including 3 cabins, and 2 heads with warm water showers.
If your desire is to learn or practice your sailing techniques or navigating, your Captain will be there to assist you. This opportunity is for persons with all levels of sailing experience.
Reserve your berth today for the most relaxing and rewarding vacation of your lifetime. Singles, couples, and families are welcome for a time you will always remember. For an eloquent description of what you will enjoy simply listen to the song "Sailing" by Christopher Cross.
Takes Me Away Sailing Adventures - Charter Dates January to April, 2003
Contact Us to Arrange for your Special Date!
Your hassle free vacation package includes your berth on the sailboat, all the breakfasts, lunches, and dinners prepared and eaten on the sailboat. Your sailing captain who will assist you in learning to "pull the ropes", and be your tour guide so that you will have a fantastic time.
---
© dianne siebrasse 2001, all rights reserved
last revised: September 21, 2002